Ascension Day Service
Thursday, May 26
7:00 p.m.
Announcement of Candidates for Election
Please use the link bellow to access a list of candidates for election prepared by the Nominating Committee.
MCREST Ministry for Homeless
Volunteers and donations of food/supplies are needed to provide meals for the homeless during the week of June 12-19. Donations will be collected curbside at the Sanctuary Door #1 on May 26 from 6:00-7:00 p.m. or May 28 from 10:00-11:00 a.m.
Confirmation Worship Service Signup
Please use the link bellow to sign up for one of the three Confirmation Service times. 
Run the Plank 2022
Sign up to "Run the Plank" on Saturday, June 25!
Early bird registration (until May 8): $30 
Sunday Coffee & Doughnuts
Below you will find the Volunteer link for helping with Sunday Coffee & Doughnuts.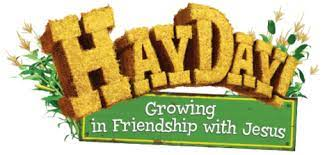 VBS Registration and Volunteer Signup
Join us for VBS "HayDay!" Registration opens April 19. Please use the link below. VBS will be Monday, July 18 through Thursday, July 21 at 9:00 a.m. to 12:00 p.m.
Unlock the Door – Finances
Stewardship of Giving from the Heart. Use the link below to access the pledge form. 
Traditional Worship Director Update
We are happy to announce that Mr. Charles Russell has accepted his Call as our Director of Traditional Music.

Please see his official letter of acceptance below. 
Beware of Scams
In April, many of us received emails from an account using Pastor Kurt Wenzelburger's name. These emails were scam messages, but a number of people responded. Below you will find some helpful tips to avoid these scams.
Events from our Parish Nurses
Bellow you will find events from our Parish Nurses.
Exercise Classes
Stay Health Exercise and Christian Yoga classes have concluded for the season.  We will resume in September and look forward to your participation! 
Blood Pressure Screening
High blood pressure is often silent and can cause significant health problems when not controlled. The Parish Health Team conducts blood pressure screening on the second Sunday of each month between the 8 and 9:30 worship services in the Brides Room behind the sanctuary. The next screening will be held on December 12. Stop by for this important health check!
Care Team
Please use the link below for more information about our care team.
Meal Care Partners Needed
Are you looking for a new way to serve your fellow members of the Body of Christ? Do you need a project that does not require a huge time commitment? Do you feel blessed to be a blessing? St. Peter has a group of dedicated people who prepare an occasional meal for a person or family going through a short-term difficult time due to illness, grief, or another stressful situation. We are currently looking to add to our list of persons willing serve in this manner. A Care Calendar is utilized to schedule these meals. You would be asked to prepare the meal and deliver it to the family on a one-time basis. For more information, please contact Paula Hoegemeyer at (586)322-2319 or hoegemeyer@att.net.
Prayer/Announcement Request 
This form is to request prayers or announcements in the bulletin and during worship services. Please understand that announcement requests are not guaranteed. We require that your announcement request be submitted a minimum of four weeks before the dates. God Bless you!